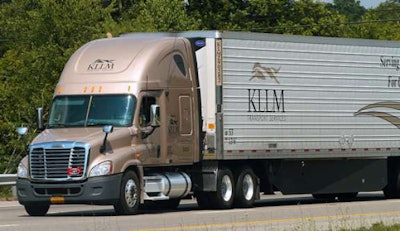 Jackson, Mississippi-based refrigerated carrier KLLM Transport Services recently announced the largest pay increase in the company's 53-year history for both company drivers and independent contractors.
Depending on their level of experience, solo company drivers will now earn between $0.38 and $0.50 per mile and over-the-road teams earning between $0.48 and $0.53 per mile. Starting Feb. 5, independent and lease-purchase contractors will receive $0.95 per mile with FSC on loaded miles.
"Freight is very strong right now and we need additional drivers to handle our freight requirements," said Jim Richards, KLLM president and CEO. "Our driving force is the most important asset we have, and we want to provide them with the top-tier income that they deserve. We have stronger requirements for our drivers, so we want our pay to be at the top, too."
KLLM currently operates three driving academies in partnership with community colleges to train and recruit new hires to the trucking industry.
"We can offer a skill and a job to workers who would like to get a well-paying job with KLLM and, with our focus on safety, we know they will be in safe equipment and will be safe on the road," said Richards.