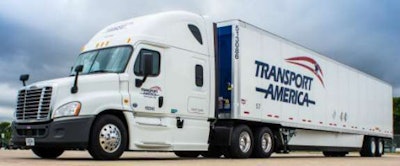 Transport America, a subsidiary of TFI International Inc. recently announced a pay increase for both current and potential drivers, effective Jan. 28.
With the increase of 2 cents per mile, drivers can now earn up to 54 cents per mile.
The pay hike means solo OTR top performers can now earn up to $90,000 annually and team OTR top performers can earn up to $165,000 annually, according to a statement from the company. Student drivers will get an increase in pay and tuition reimbursement.
The company said its pay-for-performance structure recognizes drivers for their hard work and safety, making it possible for them to reach the top pay rates and additional performance bonuses more quickly.
"We continue to have the utmost respect for our drivers and their dedication to keeping America moving, and we are excited to be increasing their pay," said Paul Simmons, Transport America president. "As 'The Trucking Company That's Changing Trucking,' we know it begins with the great men and women working with us, one mile at a time. We couldn't do this without them."
Transport America, which is located in Eagan, Minnesota, provides truckload transportation and logistics services throughout much of North America.