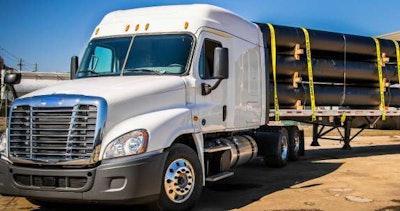 PS Logistics, LLC, a major flatbed carrier based in Birmingham, Alabama, today announced that one of its subsidiaries has completed the acquisition of substantially all assets of Shelton Trucking Services, Inc. Financial terms were not disclosed.
Shelton, headquartered in Altha, Florida, has about 200 drivers.
The company said the transaction will strengthen its operations in the Southeast and provide additional terminals in Jacksonville, Florida and Mobile, Alabama.
"We are proud to welcome Shelton to the PS Logistics family," said Scott Smith, chief executive officer of PS Logistics. "We look forward to working with their great flatbed drivers and operations staff."
Since 2007, PS Logistics has acquired 11 trucking and brokerage operations.
"When my father and I started Shelton in 1969, he managed the office and I was its sole driver," said Randy Shelton, president and co-founder of Shelton. "Over the next 49 years we built a successful flatbed trucking operation serving outstanding customers with dedicated employees. I am pleased that PS Logistics will continue that tradition with the same dedicated employees and commitment to service."