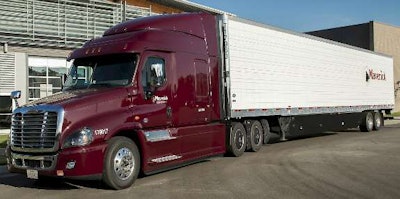 Maverick Transportation LLC Tuesday announced its fourth pay increase of the year along with a new weekly guaranteed pay. This latest raise is for its drivers in regional and over-the-road flatbed divisions, according to a news release from the company. The weekly minimum guarantee pay applies to all flatbed, glass and temperature control OTR divisions.
The new pay increase, which goes into effect Aug. 19, will add 5 cents per mile for flatbed regional drivers and 3 cents per mile for flatbed over-the-road drivers. This will bring starting pay to 54-58 cents per mile and student starting pay to 52 cents per mile.
Maverick also announced a $1,000 per week guaranteed pay which now applies to flatbed, glass, and temperature control OTR divisions. The weekly guaranteed pay goes into effect on Aug. 19.
"Maverick is excited to announce another significant pay increase for our over the road drivers," said John Culp, president of Maverick Transportation. "Our drivers are the backbone of our company and we are proud to offer them this industry leading pay package."
The Little Rock-based carrier rolled out a new pay for experience plan and student pay increase in June, temperature control division pay increase in April and glass and flatbed division increase last December. Maverick also announced per-diem pay and new sign-on bonuses in recent months.
Founded in 1980, Maverick operates over 1,700 units throughout North America.