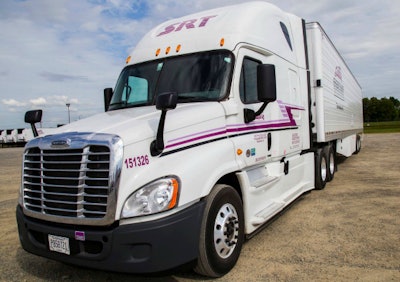 Southern Refrigerated Transport, a wholly-owned subsidiary of Covenant Transport Services specializing in temperature-controlled carrier services, recently announced all of its mileage-based will receive a 3-cents-per-mile pay increase beginning mid-January. The company said this is its the third pay increase in 15 months.
In addition, the company based in Texarkana, Arkansas announced another reduction in employee health insurance costs for the upcoming year. It's also the third time in the last two years the company has lowered employees' health costs, according to a statement from the company.
Billy Cartright, COO at SRT, said the changes reflect improvements in SRT's performance, and the desire of company officials to rightfully reward those responsible for the turnaround.
"We want to say thank you to our people who work hard to make SRT a reliable carrier for our customers," Cartright said. "Our professional drivers are on the front lines of our business, and their success is the reason we can implement these improvements in benefits."
Terri Lafayette, director of recruiting at SRT, said the 3-cents-per-mile increase and insurance cost reduction will result in an additional $8,000 for some drivers next year.