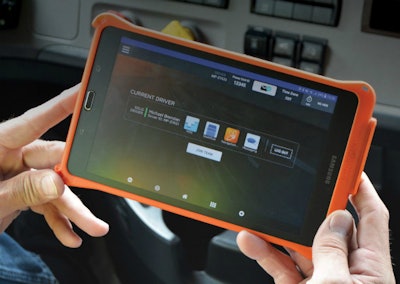 Schneider, one of the largest trucking carriers in North America, is utilizing Samsung Galaxy tablet devices to improve driver experiences and make their lives easier both in and out of the truck.
The tablet is assigned to the driver and not the truck with apps that provide news, delivery information and bonus pay statements.
"I like that I don't have to write everything down – like pick up numbers and customer info. It's all right there for me, so I don't have to go to a truck stop to do that paperwork," said Schneider driver Shawn Calloway. "I'll admit, I was hesitant at first, but it's been a great portable tool that lets me streamline my work so I can get back on the road."
Schneider says the tablets lay the foundation for future capabilities such as electronic signatures and transfer of documents. As the technology evolves, Schneider is looking to further enhance the driver experience and accommodate additions and changes to the suite of system tools.
"We have upgraded the in-cab communication system and provided new capabilities outside of the truck for drivers," said Mark Rourke, executive vice president and chief operating officer at Schneider. "We've listened and heard from drivers on how tablets are difference makers in making their lives easier. Putting technology in the palm of a driver's hand is one of many ways we're enhancing their experience."
Testing of tablet-based solutions began in early 2015 with a pilot group of Schneider drivers who trialed the tablets alongside the current in-cab system. The resulting feedback noted their improved experience and elimination of the irritants of the previous processes, namely paperwork.
"It's like an electronic Swiss Army Knife," Rourke said. "All the tools and apps like MyPilot, Weigh My Truck, and Schneider's Compass are in one easy-to-use place for drivers."
Drivers are also using the tablets to:
Track work
Get customer information
Complete training without a facility stop
Look up bonus info
Weather and road conditions
Turn-by-turn GPS directions
Read news, messages, videos and more