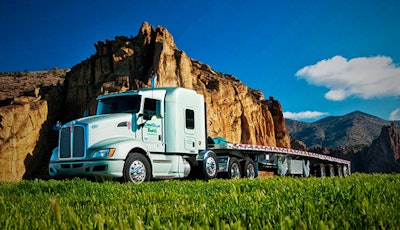 Central Oregon Truck Company has a surprise for its drivers and for those who might wish to go to work for the 400-truck flatbed company: no surprises.
Located in Redmond, Oregon, Central Oregon Truck Company has created a compensation program that gives drivers confidence in what their take-home pay will be each week and removes the uncertainty of traditional safety, productivity, and similar bonuses that might not pay out until the end of the month. It also delivers raises to all of the company's drivers during this especially demanding year.
Matt Ellsworth is the director of operations at COTC and said the company has a pay period that runs from Monday midnight to the following Monday at midnight. He said drivers are paid for any miles driven during that period. "So they don't have to actually deliver the freight," said Ellsworth. "It's just how many miles they've actually driven. And we've found that that really stabilizes the paychecks."
He said COTC's pay tier for solo OTR or regional drivers is 2,340 miles and pays a minimum of $1,350 per week or an annual wage of more than $70,000 and up to more than $111,000, based on miles driven. Team drivers can earn $2,350 to $3,345 gross each week, for an annual salary between $122,000 to $173,000.
Ellsworth added that making those mileage marks is not difficult, especially for the company's seasoned drivers. He said it equates to about four days of driving. It also equates to peace of mind.
"Guys know very quickly partway through the week, what they're going to be taking home," said Ellsworth, who has been with COTC for more than 10 years. "They can see, 'Okay, I'm going to hit X amount of miles and that's going to equate to X amount of pay.'"
And, COTC also pays drivers $1,250 during orientation and has a program to compensate drivers if they might lose pay because they have an equipment breakdown.
Furthermore, COTC also has what it calls a "transition pay" program. Ellsworth explains:
"While we require OTR experience, we do not require flatbed experience. Between our orientation and continual learning processes we strongly feel that we can teach a willing teammate how to tarp, but understand that it may take longer to learn that process; especially in extreme weather conditions.
"We also want to help drivers feel comfortable while transitioning from their previous employment or other transportation sectors to OTR/Flatbed. Because of this, we are paying an extra 3 cents on all miles for the first three months and 2 cents for six to nine months.
"To further assist in their transition to COTC, we have a, 'Bet The President' program that is payable on their six-month anniversary. If a driver joins our team, drives for six months, and doesn't make more than their previous six months of employment, the president of the company will pay you an extra $3,500."
Ellsworth boldly adds that COTC wants its driver to be the highest-paid in the industry. For good reason. Flatbedding, especially the way COTC does it, is not for everyone, something Ellsworth said the company makes clear in the hiring process.
"We try to be upfront and honest on what sort of demands that they're going to be facing, and it's not easy. And we recognize that" said Ellsworth. "And that's why I think we are top tier, especially now, in compensation in the industry. It's a hard, hard sector of the driving market with tarping and flatbedding. It's also a hard lifestyle for our drivers to be over the road and away from their families. And that's why we are where we are with our compensation, of really paying our driving team for that time that they spend over the road away from their family and fairly compensate them for the work that they'd done. We truly do appreciate that. And, we're proud to compensate for that."
COTC is part of Daseke, Inc. along with 11 other flatbed trucking companies. Ellsworth said COTC just completed making Leavitt's Freight Service, another Oregon trucking company that specializes in hauling large utility poles, part of COTC. Combined, the company now has more than 400 trucks.
Today, COTC runs over the road with some diversity in their lanes. Some COTC drivers run all 48 states and are out for three to four weeks at a time. The other fleet covers 11 western states — from Colorado to the coast — and those drivers are home every other weekend. COTC also has heavy haul, quad axel operation in the Pacific Northwest and those drivers are home every weekend. Leavitt's drivers run the Interstate 5 corridor and are home every weekend.
Ellsworth said COTC approaches its home time policies with the same sort of mindset it does compensation: with the driver in mind. Drivers can go online and select days they wish to be home, and Ellsworth said this is meant to accommodate drivers' desires to be home for especially for what he calls "those big showstopper events" like anniversaries, birthdays, and graduations.
Like its new compensation plan, Ellsworth said COTC's home time program and other driver benefits are meant to give drivers the reassurance the company values them and the work they do.