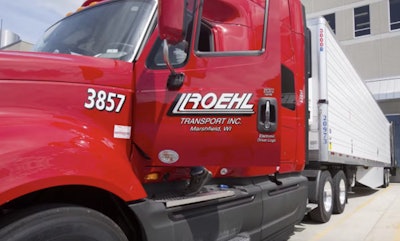 A Wisconsin-based carrier recently announced a significant pay increase for its drivers.
Roehl Transport, which is based in Marshfield, Wisconsin, April 6 changed its compensation program giving drivers the opportunity to earn from 12% and 14% more.
has made a change to its driver pay plans that will allow driving teammates to make 12% to 14% more, the company announced April 6. The pay increase applies to its national, regional and home daily drivers.
The company says it has moved from a static cents per mile on all miles to a sliding mileage scale based on length of haul taking into account the value of a driver's time and realizing that drivers need to be compensated at a much higher rate per mile on shorter lengths of haul. It also takes geographic location and freight type into consideration. Some of Roehl's drivers will now earn $1.64 per mile on a 50-mile load as a result.
"Once again, Roehl is innovating and evolving, and these pay plan changes reinforce our commitment to providing the best driving jobs to the best drivers in the industry," said Tim Norlin, Roehl's vice president of driver employment. "These pay plans are a fundamental change to how we compensate our driving teammates. The mileage band pay plans feature rates per mile based on the length of haul with activity pay added in.
"These enhanced pay plans, when combined with our address-to-address mileage calculations, 3 cent accident-free pay and performance bonuses, ensure that Roehl drivers receive some of the highest compensation in the industry."
This comes after the company recently made its largest profit-sharing contribution of 7% to eligible employee wages.
Search thousands of trucking jobs to find the job you want.
Find Your Next Job Today