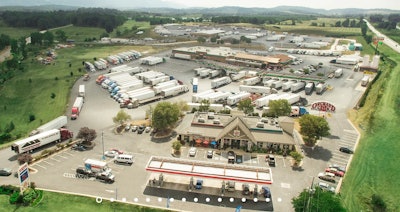 Two truck stops in the South are offering COVID-19 vaccinations.
White's Travel Center of Raphine, Virginia, hosts mobile vaccine clinics May 25-27 from 2 p.m. to 6 p.m.
White's has partnered with Raphine Medical Associates, the Virginia Department of Health, Virginia Department of Transportation and the Virginia Governor's office to host the vaccine clinics.
Staff members from Raphine Medical Associates will be administering the vaccinations inside of Destination Station. Pfizer, Moderna and Johnson & Johnson vaccines are available. Appointments are not required.
Also, Love's Travel Stops is hosting a COVID-19 vaccine clinic Wednesday, May 26, at its travel stop in Irvington, Alabama. The vaccine will be available for free to employees, local residents and professional drivers from 8 a.m. to 6 p.m.
The Mobile County Health Department will administer the shots. Both the Johnson & Johnson and Pfizer options will be available. Health department employees will help schedule the second dose of the Pfizer shot for those who choose it.
NATSO is urging members to host a vaccine clinic Memorial Day Weekend.
In recent weeks, several NATSO members have hosted successful vaccine clinics:
Iowa 80 Group partnered with Hy-Vee Pharmacy to offer COVID-19 vaccine clinics at five of their sites in May;
JC Seneca Foundation partnered with G-Health Enterprises to host a vaccination pop-up clinic at Native Pride Travel Center in New York; among others.