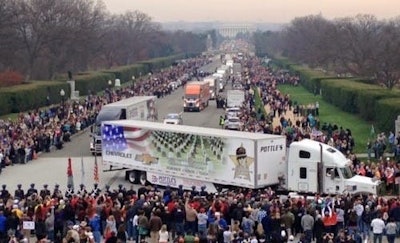 Wreaths Across America
This country's trucking industry has a special connection to America's military veterans. This was on display recently when drivers for numerous companies delivered holiday memorial wreaths to cemeteries across the U.S. to be place on the graves of service veterans.
National Wreaths Across America Day took place Saturday, Dec. 18, at 3,136 participating veterans' cemeteries across the country.
America's veterans were remembered as each name was said aloud and honored as more than 525 truckloads of wreaths were delivered by 390 different carriers. More than two million volunteers, a third of whom were children, helped place more than 2.4 million wreaths on headstones across the country.
At Arlington National Cemetery, 66 tractor-trailers delivered more than 250,000 veterans' wreaths that were placed by nearly 38,000 volunteers.
This was the 30th year that veterans' wreaths have been placed there, a tradition started by Maine wreath maker Morrill Worcester as a gift of thanks. As he has each December since 1992, Worcester himself again made the trek to Arlington this year to place wreaths.
Next year's National Wreaths Across America Day will be held on Saturday, Dec. 17, 2022.