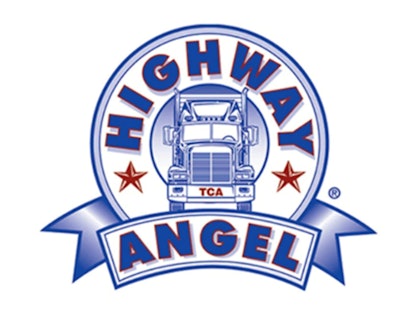 Two Bay and Bay Transportation drivers have been recognized for their actions at the scene of a highway mishap last fall.
The Truckload Carriers Association has named Tony Doughty, from Greenville, Texas, and Thomas Glass, from Maryville, Tennessee, Highway Angels for stopping when they came upon a stalled vehicle with smoke coming from underneath the hood.
TCA supplies the details:
It was Oct. 23 and Doughty and his wife, Alison, who rides with him, were on Interstate 80 in Iowa. "It just so happened that we were running with a buddy of mine, Thomas Glass, because we were both headed to Salt Lake City to deliver," Doughty said. "It was about 7:30 a.m. when we rounded a corner and saw an SUV sitting on the side of the road, smoke pouring from underneath the hood." He feared it was about to catch fire. He and Glass were on the phone at the time. "I told him I was gonna stop because this car was about to catch fire," recalled Doughty. "He was right behind me and said he would stop, too. I told him to grab his fire extinguisher." The two men quickly pulled over and rushed to the smoking vehicle.

The driver was a man in his 80s. "He told us he'd heard a pop," said Doughty, "and all a sudden there was a lot of smoke and he couldn't see anything and had to pull over." Doughty and Glass popped the hood. "We had our fire extinguishers ready, but it was just an antifreeze line that had exploded and caused steam to go over the entire engine," said Doughty. Meanwhile, Alison called the police to notify them of the situation. "We pulled the pins on our extinguishers and were waiting for it to ignite, but there was just one small flame so we gave it a squirt and then stood by to let it cool down and make sure everything was okay," said Doughty. "It never got hot enough to catch the belts on fire." Once the fire department arrived, the Doughtys and Glass got back on the road.

Doughty served as a volunteer firefighter for 12 years. "I loved being a firefighter," he said. "You take an oath that you're going to protect people in any way and in any situation possible. I did that for a long time before I started my own business and driving truck." Doughty is the sixth generation in his family to be a truck driver. "I tell people I've got diesel running through my blood," he chuckled.

Glass has been driving for four years. The Doughty's say he has a heart of gold and always tries to help anyone he can. "Tony considers Thomas his brother," said Alison.

Doughty and Glass have been driving for Bay & Bay since June 2021. They travel together when they can.
TCA presented both men with a certificate, patches, lapel pin, and truck decals. Bay & Bay has also received a letter acknowledging the men as Highway Angels.
Since the program's inception in August 1997, nearly 1,300 professional truck drivers have been recognized as Highway Angels for the exemplary kindness, courtesy, and courage they have displayed while on the job.
The program's presenting sponsor is EpicVue, and the supporting sponsor is DriverFacts.