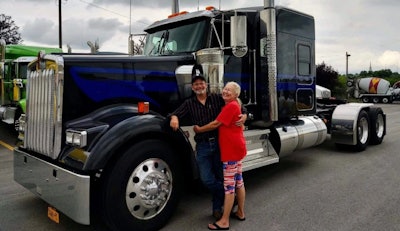 A New York trucker has been named driver of the year by the Institute of Scrap Recycling Industries.
Mike Cuson, who drives for Page Transportation Inc. of Weedsport, New York was recognized during the recent ISRI2022 Convention and Exposition.
"Mike's record speaks for itself," said Dan Titus, Page Transportation president. "If you weren't impressed with his resume, you would be by the way he cares for his equipment and those that operate around him. He is an exceptional example of what it means to be a Page driver."
ISRI's Driver of the Year Award recognizes outstanding drivers who have driven a commercial vehicle for at least 20 years without incurring a preventable accident. Cuson has been driving for more than 30 years.
"We are so happy to give this year's driver of the year award to Mr. Cuson," said Tony Smith, ISRI's vice president of safety. "His 30 years of dedicated, accident-free service is exemplary. Mr. Cuson's 30 years of crash-free driving are highlighted by zero out-of-service violations. ISRI salutes the level of professionalism shown by Mr. Cuson. We thank you for taking the time to work safely every day."
Page Trucking is located just off the New York State Thruway west of Syracuse.