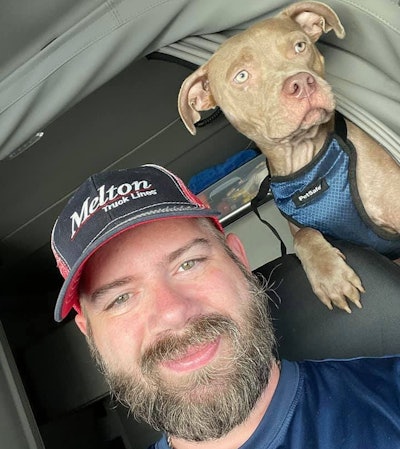 A driver for Melton Truck Lines was recently honored for his actions at the scene of a three-vehicle collision last fall.
The Truckload Carriers Association has named professional truck driver Scott Nowell a Highway Angel for rescuing several injured people involved in the crash, and staying with the victims until help arrived.
TCA says, "It's a heroic story," and explains:
Nowell was driving on Route 235 in Ozark, Alabama last Fall when he witnessed a driver run a red light, causing a three-vehicle collision. A truck was involved, as well as a cargo van that flipped during the accident, rolling off to the right. The driver of the first car, a high school-age boy, was pushed off the road to the left, down a ravine. Nowell and another passerby, who happened to be a nurse, first went to the van and broke apart the windshield to rescue the victims.

"I was right there and pulled the two guys out of the van and then went over to the car and did First Aid and CPR on the kid in the car," said Nowell. A former volunteer first responder in his hometown, Nowell shared with TCA that he received First Aid training. Nowell added that the boy's car was "mangled up pretty bad."

The severely injured young driver was life-flighted from the scene, and survived, Nowell said, as did the other drivers and passengers. Nowell stayed at the scene to assist with EMTs and police, giving his account of the accident.

Nowell just began his truck driving career in May of 2021, changing due to the pandemic from work in the hospitality industry. He has already been recognized by his company, Melton Truck Lines, for a previous incident helping other crash victims at an accident in Louisiana earlier in 2021.

"How I look at it is, what if that was somebody I knew – my mom, my dad, my brother, a close friend of mine?" said Nowell. "I would hope someone would stop to help them."
TCA presented him with a certificate, patches, lapel pin, and truck decals. The company has also received a letter acknowledging him as a Highway Angel.
Since the program's inception in August 1997, nearly 1,300 professional truck drivers have been recognized as Highway Angels for the exemplary kindness, courtesy, and courage they have displayed while on the job.
The program's presenting sponsor is EpicVue, and the supporting sponsor is DriverFacts.