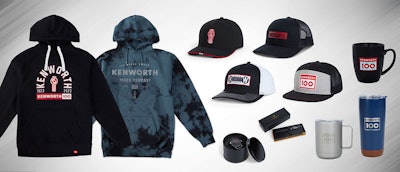 Kenworth
In honor of Kenworth's 100th anniversary, the 2023 Kenworth Merchandise Collection features more than 25 new, officially-licensed Kenworth 100 Collection apparel, drinkware, and accessories for fleets, drivers, and brand enthusiasts.
The full 2023 Kenworth Merchandise Collection also offers a comprehensive line-up of more than 300 items, including caps, men's and women's apparel, kids' items, drinkware, golf accessories, name brands, and the Kenworth 2023 appointment and wall calendars.
Both the 2023 Wall and Appointment calendars feature truck photographs that encompass Kenworth's history from 1923 to the present.
RELATED NEWS: Kenworth turns 100; introduces two trucks to celebrate its anniversary
To order, visit www.ShopKenworth.com, or call 877-705-3314 toll-free from 5 a.m. to 5 p.m. Pacific Time. Those ordering from Canada may call 1-425-659-3581 during the same time period. Kenworth dealerships in the United States and Canada also offer officially licensed Kenworth merchandise for sale.
Kenworth Truck Company, founded in 1923, is celebrating its historic 100th anniversary throughout the year. It recently showed off two special edition trucks in honor of the milestone.