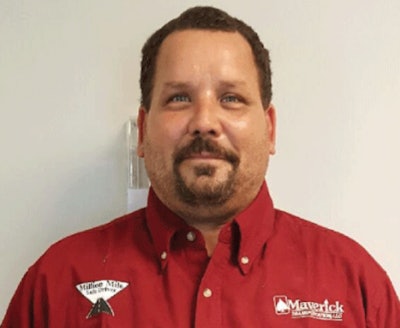 An Alabama trucker used his skills as a trained first responder to help victims of a violent collision in Georgia earlier this year, and has been honored for his efforts.
The Truckload Carriers Association recently named truck driver Terry Reavis, from Toney, Alabama, a Highway Angel for stopping to help injured passengers of an SUV that t-boned a pickup truck that was backing up on a highway. Reavis drives for Maverick Transportation out of North Little Rock, Arkansas.
TCA explains:
On Feb. 19, around 2:45 p.m., Reavis was traveling on Interstate 95 in Brunswick, Georgia when he witnessed a pickup truck on the shoulder backing up quickly and driving backwards across three lanes of traffic. An SUV t-boned the pickup truck, then took a nosedive so hard that the rear wheels came off the ground and a car went under it. A woman from the SUV was ejected through the windshield.

"It was the worst wreck I've seen in my 27 years as a trucker," said Reavis.

Reavis hit the record button on his dashboard camera and pulled over. He was one of the first people on the scene. He proceeded to help pull three children from the SUV and then focused on the woman who had been ejected through the windshield. A trained first responder, Reavis helped stop some of the bleeding, tried to keep the woman calm and held her in his lap until emergency personnel arrived.

"I stopped because it's what I was taught," he said. "Treat people the way you would want to be treated."

Fortunately, there were no fatalities from the accident.
Since the program's inception in August 1997, nearly 1,300 professional truck drivers have been recognized as Highway Angels for exemplary kindness, courtesy, and courage displayed while on the job. Thanks to the program's presenting sponsor, EpicVue, and supporting sponsor, DriverFacts, TCA is able to showcase outstanding drivers like Reavis.