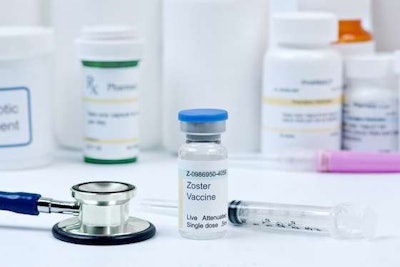 A Centers for Disease Control advisory council voted last week to approve a new shingles vaccine, called Shingrix, for adults age 50 and older. The Advisory Council on Immunization Practices is recommending adults who previously received a shingles vaccine named Zostavax get revaccinated with Shingrix.
The recommendations are expected to be approved by the CDC next year, according to the Washington Post.
Before Shingrix was approved, Zostavax was the only approved shingles vaccine. Shingrix is expected to be available soon, according the the council, but no specific timeframe for its implementation was provided.
Shingles –a condition caused by the same virus that causes chickenpox — causes a painful rash, which usually forms on one side of the body or face. One in three Americans will develop shingles during their lifetime. The rash causes blisters which may take as long as 2-4 weeks to clear up, according to the CDC. Pain from a shingles rash can linger after the rash clears up for months and sometimes years.
Adults develop a higher risk for shingles as they get older. The shingles vaccine is recommended for adults age 60 and older and lasts for about five years. The vaccine is available to adults over age 50, but the CDC does not have guidances for routine vaccinations of those age 50-59. Individuals are advised to get the shingles vaccine regardless of whether they can recall having had chickenpox, a related condition, or not.
Free shingles vaccination vouchers are available online from the St. Christopher Truckers Relief Fund for Class A CDL holders.