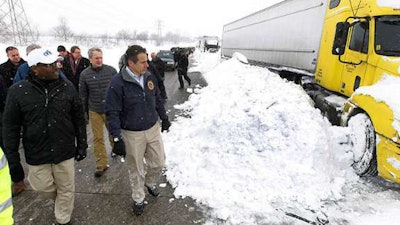 Parts of the New York State Thruway closed by a massive snowstorm are expected to reopen in western New York as early as 3 p.m. today.
Gov. Andrew Cuomo announced at a press conference that the Thruway will be open from Exit 46 in Henrietta to Exit 50 at I-290.
The Thruway will be open between Exit 51 near the Buffalo Niagara International Airport to the Pennsylvania border at Exit 61, but local exits will still be closed, Cuomo said. On-ramps will be open, as will rest areas.
Almost 100 trucks have been stranded on the Thruway and almost 300 more have been idled at trucks tops by the historic storm.
The governor said the primary reason to reopen the highway to traffic is to remove disabled vehicles.
The Thruway has been closed since Tuesday because of a storm that dropped between 5 and 7 feet of snow.
I-290, Route 219, Route 400 and the 1-190 Niagara Thruway will also reopen this afternoon.
The death toll from the storm has reached 13 and flooding is expected as the snow melts.