If your travels are taking you to the East between now and early next week, keep a weather eye out for what could be some nastiness as Hurricane Hermine arrives.
This is what the Nation Weather Service's Eastern Region Headquarters has to say: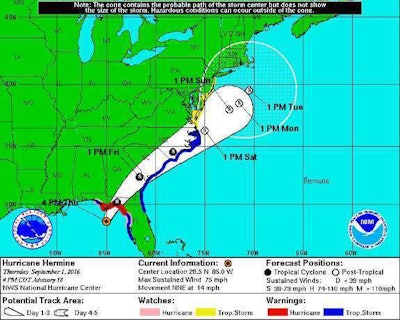 The Tropical Storm Warning has been extended northward along the East Coast coast to Duck, North Carolina, including the Pamlico and Albemarle Sounds. A Tropical Storm Watch has been issued north of Duck, North Carolina to Sandy Hook, New Jersey, including the Chesapeake Bay from Smith Point southward, and the southern Delaware Bay.
At 5 p.m. Hurricane Hermine was located 85 miles south of Apalachicola, Florida and was moving to the north-northeast at 14 mph. Maximum sustained winds are 75 mph and some slight additional strengthening is possible before landfall tonight.
There is not much change in the forecast. Hermine is expected to move northeast along the South and North Carolina coasts late Friday and Friday night before moving back offshore off the mid Atlantic coast sometime on Saturday. Heavy rains with the potential for flash flooding, tropical storm force wind gusts, storm surge of 1-3 feet, and isolated tornadoes are expected across central and eastern Georgia, South and North Carolina and the Tidewater area of Virginia.
By Saturday Hermine will be interacting with a developing upper low. This interaction will likely cause Hermine to stall and meander off the mid Atlantic coast Sunday, Monday, and likely into Tuesday. There remains much uncertainty regarding the exact track of Hermine, and it's structure during this period. This will substantially impact how much rain and strong winds will push west along the coastal areas from the Delmarva region north into southern New England. However, persistent onshore east and northeast winds will result in dangerous surf and rip currents, and the potential for coastal flooding during several successive high tide cycles throughout the Labor Day weekend.