Ryder System, Inc. today announced the results of its military recruiting program, launched five years ago.
Since joining the U.S. Chamber of Commerce Hiring Our Heroes program in November of 2011, Ryder has hired 4,480 veterans and increased the percentage of veterans among its U.S. workforce to more than 10 percent, according to a statement issued today, Veterans Day, Nov. 11.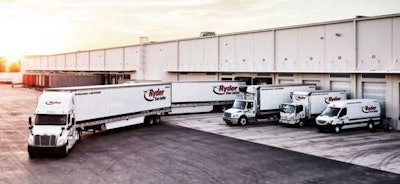 As part of its chamber involvement, Ryder is a FASTPORT partner and member of the Veterans Employment Advisory Council. For three consecutive years, since 2013, the company has been named one of CivilianJobs.com's Most Valuable Employers for Military.
See Truckers News' Salute to Veterans who drive trucks.
"On behalf of Ryder, I'd like to thank and salute all our veterans for their service and sacrifice; we are forever indebted to you," said Robert Sanchez, Ryder's chairman and CEO. "Investing in our military veteran community across the country is not only the right thing to do, but it also makes good business sense. Our veterans possess distinct skills learned through military service that can be easily translated to jobs at Ryder."
Ryder says it also has engaged in other initiatives designed to help ease the transition from military to civilian life. These include:
In August, Ryder renewed its commitment to the Employer Support of the Guard and Reserve at a signing ceremony held at the Great American Trucking Show in Dallas
Last month, Ryder graduated its first class of veteran diesel technician students, who completed Ryder's 12-week program in partnership with Soldier for Life – Transition Assistance Program. The program's second class of five students began Oct. 24.
Earlier this year, Ryder donated $30,000 to give female veterans priority to Veterans at Work: Military Transition Fund awards. The program is a vocational/technical-focused initiative created by the TechForce Foundation which helps veterans obtain the technical education needed to transition their skills into careers at home in the transportation industry.
The company established its own Women Veterans Task Force, an eight-member panel consisting of female military veterans in managerial or supervisory roles at Ryder, who collaborate on strategies for recruiting more female veterans to the industry.
Ryder also uses its Veteran Buddy program, which pairs veteran new hires with a Ryder military veteran who is available to help them in their new work environment.
One of the company's most recent military recruiting initiatives is its partnership with the United Way of Miami-Dade's program that connects veterans with essential services and employment opportunities so they can re-acclimate to civilian life. The program was launched in Miami-Dade County this July and is a source of support for 62,000 Miami-Dade locals, with a focus on post-9/11 veterans and their families.