Dillon Transportation, a 103-truck fleet that runs mostly team operations, has asked for an exemption to allow its drivers to split their required sleeper berth time into two segments of at least three hours. Federal law requires either 10 consecutive hours or an 8/2 split.
Dillon Transportation, which is headquartered in Mt. Juliet, Tennessee, is not affiliated with Dillon Transport, the large tanker fleet.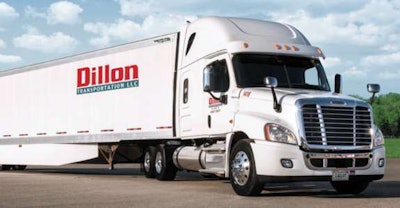 In an exemption request to the Federal Motor Carrier Safety Administration, Dillon proposes allowing its team drivers to split sleeper berth time into two periods totaling 10 hours – either 5/5, 4/6 or 3/7.
FMCSA granted a similar exemption request to private carrier McKee Foods in 2015. CRST has also requested the split sleeper exemption, but FMCSA has not yet issued a decision on CRST's request.
Dillon says if the exemption is granted it will reduce allowed daily drive time from 11 hours to 10 hours. Additionally, Dillon says all of its trucks are equipped with Qualcomm devices and electronic logs, as well as speed limiters, to keep up communications with drivers and ensure hours-of-service compliance.
FMCSA is seeking public comments on the exemption request, which can be made by searching Docket No. FMCSA-2016-0443 at www.regulations.gov.