The American Trucking Associations Tuesday, Jan. 10, named 20 company drivers as 2017-2018 America's Road Team Captains.
For the next two years, the newly chosen captains will tour North America in ATA's Interstate One Image Truck, an American flag emblazoned Volvo VNL 780 with a state-of-the-art truck driving simulator. According to the ATA, the captains, who will remain full-time truck drivers with their various ATA member companies, will speak about the life of a truck driver, the role trucking plays in the delivery of critical goods and the safety-first mentality held by drivers.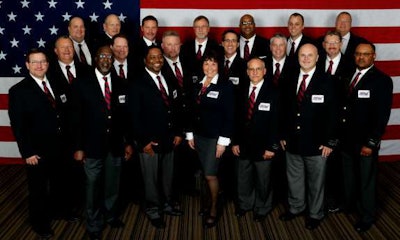 Back row, left to right: Bill Krouse (YRC Freight), Micheal Sheeds (Werner), Jeff Payne (Reddaway), James Moore (Saia LTL Freight), Stephen Richardson (Big G Express), David Livingston (TCW), Charles Lobsiger (Walmart Transportation),
Middle row, left to right: Gary Helms (Covenant), Chris Outen (FedEx Freight), Steve Brand (FedEx Freight), Jon Brockway (Walmart Transportation), Scott Harrison (K-Limited Carriers), Tim Melody (ABF Freight)
Front row, left to right: Scott Smalley (ABF Freight), John Gaddy (Carbon Express), Charlton Paul Jr. (UPS Freight), Rhonda Hartman (Old Dominion Freight Line), Gary Smith (Garner Trucking), Tim Taylor (FedEx Freight), Earl Taylor (Penske Logistics).
Photo by John Sommers II