Here's a quick rundown of some of the people at a recent meeting in Dallas:
One rode thoroughbred race horses at Churchill Downs for 18 years*, and another formerly was an EMT
One has bottle-fed, raised and released 300 baby raccoons, while another attendee used to be a roller derby referee
One just returned from Burning Man, and another got their pilot's license at the age of 19
Those are just a few of the things that distinguished these folks from one another.
What makes them similar, and what brought them together at a DoubleTree Hotel at the Dallas Forth Worth Airport for three days last week, is these are all women drivers for Saia LTL Freight, which is headquartered in Johns Creek, Georgia near Atlanta.
Those fun personal facts about the drivers were part of an icebreaker activity after dinner the opening night of the gathering.
During the get-together Saia's VP for Human Resources Michelle Richard (former college cheerleader) said this was the second such meeting of the company's women drivers.
Last year's meeting led to the creation of what Richard called an informal sorority: The Sisters of Saia, which has its own Facebook group.
These gatherings, she said, are meant to help the women get to know one another better, network and encourage mentoring. It was also an opportunity to focus some attention on this small, but growing cadre of drivers, in the hopes of them helping bring more women into the ranks of this $1.3 billion company that provides LTL, non-asset truckload and third-party logistics services throughout North America.
Richard said that while women make up less than 1 percent of Saia's 9,000-member corps of drivers, they are important to the success of the company, especially when it comes to helping recruit more women.
Brenda Wallace (likes to camp in the High Unita Mountains) is one of the women who drives for Saia. She's a city driver in Utah, and has been behind the wheel of a truck for 18 years hauling everything from coal to hogs.
Wallace has been with Saia for a year and a half, and likes it because she's "treated like one of the guys." She said she doesn't need or want special consideration or help.
That was a recurring theme throughout the three days: Saia's women drivers do the same job men do, get paid as men do and have the same opportunities as men.
Paul Peck, VP of operations for Saia's Central Division, drove home those points and urged women to make them part of their answer whenever someone asks them, "What's it like to work for Saia?"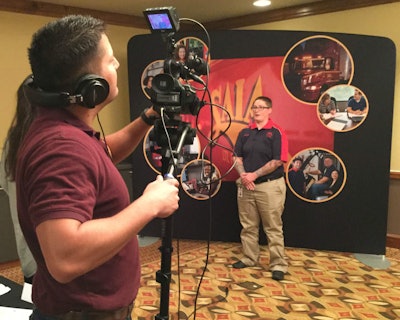 Peck has been with Saia for 39 years, starting when he was a 17-year-old in the small town of Houma, Louisiana from which the trucking company sprang.
"It is awesome to see women in our industry," said Peck, who ran or opened terminals for the Saia brothers who founded the company. He told the women Saia is going to continue to grow and needs drivers; women drivers.
And it was Peck who made the boldest statement spoken those three days when he said, "Women are the future of this industry." And, he urged the women to, "Protect our future together."
The women also heard from Ellen Voie, president and CEO of Women in Trucking and John Esparza, president of the Texas Trucking Association.
They also learned how to effectively represent Saia in the broader trucking community and on social media like Facebook and Twitter. There were question and answer periods and plenty of time for women to learn more about one another.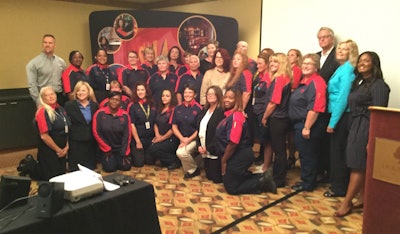 *Rode races horses at Churchill Downs: Kimberly Holt, line haul driver
Former EMT: Dana Fortner, line haul driver
Raised 300 raccoons: Mona McCloud, local city driver
Roller Derby referee: Maren Braaksma, line haul driver
Back from Burning Man: Victoria Gallagher, local city driver
Pilot at 19: Heather Eden, local city driver