Think for a moment: In the course of your driving week, how many bridges do you cross?
Now, how safe do you think they are?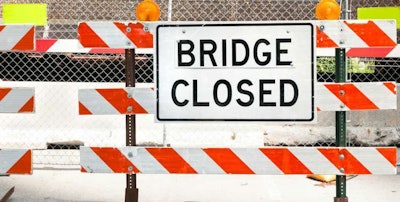 The American Road & Transportation Builders Association has done a great deal of thinking about the condition of the bridges American truckers must cross each day. The organization recently released its 2017 report on the state of this country's bridges and here are the main takeaways:
There are 185 million daily crossings on nearly 56,000 structurally deficient U.S. bridges
About 1,900 of those bridges are on the interstate highway system
The average age of a structurally deficient bridge is 67 years old, compared to 39 years for non-deficient bridges
41 percent of U.S. bridges (250,406) are over 40 years old and have not had major reconstruction work
28 percent of all bridges are more than 50 years old and have never have major reconstruction work done on them
The association also released a detailed state-by-state map and ranking of where bad bridges are located.
Here is a list of the states with the most bridges they say are structurally deficient and how many bridges need repair:
Iowa, 4,968
Pennsylvania, 4,506
Oklahoma, 3,460
Missouri 3,195
Nebraska, 2,361
Illinois, 2,243
Kansas, 2,151
Mississippi, 2,098
Ohio, 1,942
New York, 1,928
The ARTBA explains how it determines if a bridge is considered structurally deficient:
"To help ensure public safety, bridge decks and support structures are regularly inspected for deterioration and remedial action. They are rated on a scale of zero to nine—with nine meaning the bridge is in "excellent" condition. A bridge is classified as structurally deficient and in need of repair if its overall rating is four or below."
See where your state's bridges stand, and use this map to see the bridges in need of attention.
Also, use the comments section below to tell us about the bridges you drive across that you think are unsafe.