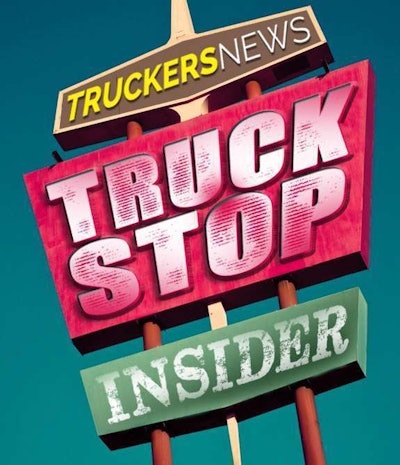 EDITOR'S NOTE: Welcome to a new feature on Truckers News, Truck Stop Insider. This occasional column will cover news about independent and chain truck stops with an eye toward keeping drivers up to date on these facilities that are so important to the man or woman on the road.
—
Somehow no one was injured when a tractor-trailer crashed through the wall of a truck stop in Wisconsin last week.
The mishap occurred at about 5:30 a.m. Thursday, March 9 at the Travel Mart just off I-94/90 in New Lisbon, Wisconsin.
The truck's driver, Scott Walter, 45. of Monroe, Wisconsin was taken to an area hospital for observation. A clerk and a customer were in the truck stop at the time of the crash but were uninjured.
Several media reports say the truck stop is closed indefinitely pending repairs. The Subway, A&W and New Lisbon Family Restaurant that are part of the Travel Mart are also closed.
New Lisbon Police Chief Brent Granger said his department and the Wisconsin State Patrol continue to investigate the cause of the accident.
TA Petro in Missouri aids tornado victims
A truck stop in one small Missouri town was helping residents after a tornado blew through the community last week damaging almost 500 structures.
The TA Petro in Oak Grove, Missouri just off I-70 at Exit 28, made its showers and laundry services available to local residents after a tornado touched down in the community of about 8,000 east of Kansas City on Tuesday, March 7. Residents were also given access to the truck top's charging stations for their smartphones and other devices.
The Wendy's restaurant at the truck stop has provided food to residents and those helping with the cleanup.
Five tornadoes touched down in an area east of Kansas City Monday evening. The one that struck Oak Grove inflicted the most damage of all.
The storm included winds clocked at 153 mph and damaged 483 homes and 12 commercial buildings, according to the National Weather Service. There were no deaths reported in the storm but 12 people were injured, none seriously.
Suspect arrested in Gear Jammer holdup
Police arrested a suspect Tuesday in connection with the weekend robbery of the Gear Jammer Truck Stop in Union Gap, Washington.
The Union Gap Police Department said the truck stop located at 2310 Rudkin Rd. was robbed at gunpoint about 3:25 a.m. Sunday.
Police later released an image of the man they said was responsible, along with a description of the vehicle the man used. The vehicle also was located and impounded pending a search warrant, police say. They did not release the name of the suspect.
Beaumont, Texas site for new Love's
Construction of a new Love's in Beaumont, Texas is expected to be complete late this summer.
The new travel center is located on the westbound side of I-10 at Smith Road exit and will have:
115 truck-parking spaces
seven showers
10 diesel fuel pumps
a truck tire care facility
Its restaurants will include an Arby's, a Chester's Chicken and a Godfather's Pizza.
New Pilot Flying J planned for Ohio
Pilot Flying J plans to build a new travel center on Route 7 in Steubenville, Ohio.
The company's plans are going through the local government approval process for a store to be built near the River Rail Intermodal Terminal at the former Wheeling-Pittsburgh Steel plant.