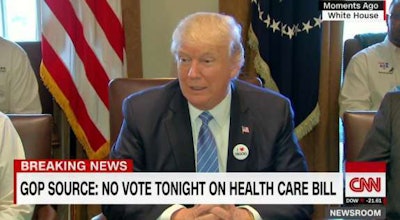 "Who makes more money, them or you?" President Trump asked the truck driver members of America's Road Team as he gestured toward a group of fleet executives standing on the South Lawn of the White House Thursday, March 23. The group gathered for an event to discuss issues affecting the trucking industry, including health care. A vote on the House's bill to repeal or replace the Affordable Care Act, also known as Obamacare, had been scheduled for this evening, but has since been postponed.
"The Affordable Care Act is just plain unaffordable," American Trucking Associations President and CEO Chris Spear said in a release. "Replacing this law will help trucking employees, their families and our customers by lowering insurance costs, decreasing mandates, liabilities and administrative burdens, and providing access to quality care and patient choice."
"We are here to tell you Mr. President, that the trucking industry will support you as you work towards solving America's health care challenges," said ATA Chairman and Jet Express CEO Kevin Burch. "In addition, we look forward to working with you on improving our workplace, which is our highways."
During the event, President Trump climbed in the cab of the ATA Share the Road truck, a Mack Pinnacle, blew the air horn and let the Road Team members take selfies with him. He was later pictured on social media in the White House wearing an I Heart Trucks pin.
President Trump is sporting a newly acquired "I ❤️️ Trucks" pin at White House event with trucking executives pic.twitter.com/24B8iClUzL

— Brian Ries (@moneyries) March 23, 2017