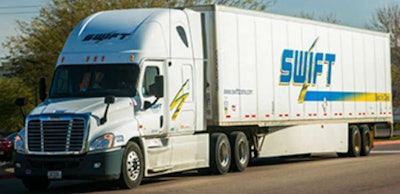 Two of the country's largest trucking firms today announced they are merging.
Swift Transportation and Knight Transportation are becoming Knight-Swift Transportation Holdings Inc. in an all-stock deal expected to be finalized later this year pending government approval. It will be headquartered in Phoenix, home of both companies; each will maintain its own identity, according to a statement from Knight today.

Knight-Swift will have 23,000 tractors, 77,000 trailers, and 28,000 employees. Swift reported over $4 billion in revenue for 2016, and Knight reported $1.1 billion.
Swift shareholders will own 54 percent of the company, while Knight shareholders will own the remaining 46 percent. The leadership team will consist of Kevin Knight, executive chairman; Gary Knight, vice chairman; Knight's David Jackson, CEO; and Adam Miller, CFO.
Swift CEO Richard Stocking, and the company's Chief Financial Officer Ginnie Henkels, "have chosen to pursue other opportunities following the closing of the transaction," according to a statement on the Knight website.
In a statement today, Knight Executive Chairman, Kevin Knight said the companies had four goals in mind when merger discussions began:
create a company with the best strategic position in our industry
identify significant realizable synergies that would create value for both sets of stockholders
create a business that over the long-term will operate at Knight's historical margins and financial returns
agree on a leadership and corporate governance framework that will benefit all stakeholders.
He said he was confident the deal achieved those goals.
"This is a terrific opportunity for our stockholders, who stand to benefit from the significant upside potential of this transaction," said Swift Chairman Richard Dozer. Indeed, by coming together under common ownership, the companies will be able to capitalize on economies of scale to achieve substantial synergies. I am confident in this new team, in the new structure and in the future of Swift in the industry."