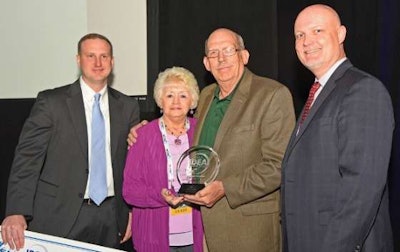 Werner Enterprises driver Charles Endorf, of Omaha, Nebraska, has been named the Commercial Vehicle Safety Alliance's 2017 International Driver Excellence Award winner.
Endorf has driven 5.5 million miles for Werner in the over 40 years he's been with the company. Endorf said he was honored to be recognized by the CVSA for his commitment to the industry.
"To me, this is a very prestigious award because it's handed out by CVSA, a safety organization," Endorf said. "It's a total honor that CVSA thought that highly of my experience over the years on the highway to pick me."
He said confidence, patience and even a little bit of luck are what have contributed to his years of safe and collision-free driving. Confidence is particularly important, he says.
"On every trip I've ever taken, I was always confident in my abilities and that I could make the trip safely. And always be patient. It doesn't hurt to come in second. If you're at an intersection and there's somebody else there who seems to be in a rush, let the four-wheeler go first. That just gives you more room to go," Endorf said.
Endorf's prizes with the award included a $2,500 check, a crystal trophy, airfare for him and a guest to attend the CVSA Workshop and a two-night hotel stay in Atlanta. He was presented with the award at the 2017 CVSA Workshop in Atlanta Monday, April 24.