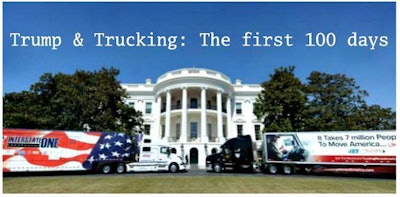 Saturday, April 29 marks the 100th day of Donald Trump's time as president.
Like many other media outlets, Truckers News is taking a look at how he has done since taking over from Barack Obama. Unlike other media, our focus is strictly on what he's done for the American trucking industry.
James Jaillet, news editor of our sister publications Overdrive and Commercial Carrier Journal, has kept track of what's gone on in Washington, D.C. since the arrival of Trump. After an initial flurry of executive orders and some controversial cabinet nominations — not to mention more than a few eyebrow-raising Tweets — things have settled into the hard work of governing and making good on promises made on the campaign trail.
In this edition of the Truckers News podcast, we talk with Jaillet about what's happened for trucking and what hasn't.