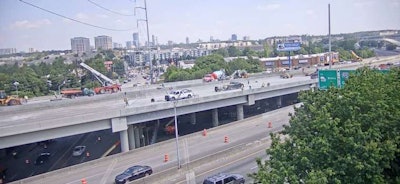 Georgia Department of Transportation Commissioner Russell McMurry announced at a press conference today that the I-85 bridge in Atlanta will reopen by morning rush hour Monday, May 15. The bridge was damaged in March by fire.
Depending on the weather, the bridge could even reopen over the weekend, McMurray said.
GDOT offered contractor C.W. Matthew an additional $1.5 million if the work was completed by May 25 instead of the previously projected date of June 15. The cost for the project was already totaled at $13.5 million before this new incentive. If the contractor completed the project by May 21, they were told they would receive $2 million plus an additional $200,000 per day for each day before May 21.
Georgia Gov. Nathan Deal credited GDOT and the contractor for the quick repair work.
"It certainly would not have happened without the efficiency of the Georgia Department of Transportation, their allied agencies and the work of the contractors," Deal said.
Officials brought arson and criminal damage to property charges against Basil Eleby in relation to the fire and subsequent bridge collapse. He pleaded not guilty April 18.
Police say he was under the interstate using drugs and set a fire which spread to fiber optic cables on wooden spools stored under the bridge. Eleby's lawyers, however, say officials are using him as a scapegoat and should not have been storing the construction materials under the bridge.
Eleby's next court hearing is June 16.