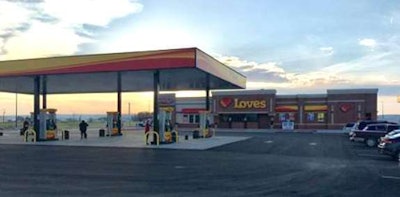 Love's Travel Stops & Country Stores has opened its first travel center in Montana.
Love's announced Thursday the opening of a new travel stop off Interstate 90 in Montana near Hardin, about 45 miles east of Billings.
The new site includes:
an 11,000-square-foot travel stop
Hardee's restaurant
six diesel islands
Greg Love, Co-Chief Executive Officer for Love's, said, "It's a milestone day as we are now open in the great state of Montana, our 41st state of service. This location gives drivers in Montana another purchasing option in an area lacking a variety of travel stop services and the competitive pricing it spurs."
"We have worked with Love's for 10 years," said Jay Foley, president and CEO of Diversified Transfer & Storage, a transport company in Billings. "Their entry into Montana will drive competition and lower fuel costs for all consumers. It will also benefit other trucking companies by providing them with much needed parking and access to the services they prefer to use when they're on the road."
Love's hosts a grand opening event for community members and customers at the new location Tuesday, June 20. The company has more than 420 locations in 40 states.