Three things are for sure about the infrastructure program President Donald Trump spoke about Wednesday:
It's foundation relies on using public-private partnerships to build and/or repair the nation's highways and bridges.
It's getting the cold shoulder from many in the trucking industry.
It's likely to get an even frostier reception in Congress.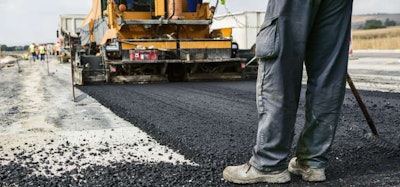 Speaking on the banks of the Ohio River in Cincinnati, Trump said he wants Congress to reduce federal spending on bridges, highways and other infrastructure projects, and instead offer some $200 billion in incentives to private companies he said will spend as much as $800 billion on projects in the next 10 years. His speech comes on the heels of his calls Monday to privatize the country's air traffic control system.
It's unclear when Congress might take up any infrastructure funding issue as it already faces two other major Trump initiatives: health care and tax reform.
Reaction to the president's plan was quick and, for the most part, predictable.
"Our desire to spend on infrastructure far exceeds the available money," said Pat Jones, CEO of the International Bridge, Turnpike and Tunnel Association. "I think the Trump team is wise to put all options on the table, including private investment."
"Privatizing our infrastructure through public-private partnerships will not solve our nation's transportation problems, " said Stephanie Kane of the Alliance for Toll-Free Interstates. "To be clear, when President Trump spoke today about 'private dollars' in infrastructure, specifically relating to surface transportation, he is talking about tolls. Tolls will not fill our infrastructure deficit because tolls rob everyday drivers to line the pockets of Wall Street and international investors. Tolls are the worst funding mechanism available and are a highly inefficient use of funds. Tolls should be removed from any discussion of responsibly fixing our country's ailing roads and bridges."
The alliance is made up of numerous trucking companies, the American Trucking Associations, all 50 state trucking associations, the National Association of Truck Stop Owners and the Owner Operators Independent Drivers Association among other organizations.
One of Trump's most vocal opponents said he will not support the proposed infrastructure plan.
Senate Minority Leader Chuck Schumer (D-NY) said of the plan, "It means Trump tolls from one end of America to the other, and huge profits for financiers who, when they put up the money, want to be repaid by the average driver, worker and citizen."
But it's not just opponents like Schumer — who objects to most of what Trump does — that disagree with the president's proposal. A coalition of more than 50 conservative organizations — mostly supporters of Trump's — disagree with his approach to infrastructure. They signed onto a letter that asked Trump to "reform the environmental review process, repeal labor regulations, focus on "core" infrastructure projects, empower the states, fully pay for projects and reform spending instead of creating new funding streams," according to a recent story in The Hill.