The Federal Motor Carrier Safety Administration will undertake a pilot program to gauge the feasibility of adding more split sleeper berth options to hours of service regulations.
FMCSA says it seeks at least 200 drivers to participate in the study. Those interested in participating should visit sleeperberthstudy.com to complete an application.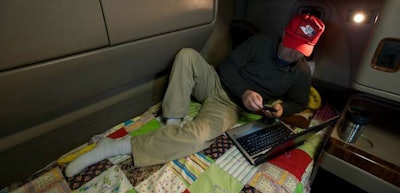 Current regulations allow drivers, as an alternative to a straight 10-hour off-duty period, to take an eight-hour sleeper berth period to break up their 14-hour on-duty limit and their 11-hour drive-time limit. Drivers using this provision must then take a two-hour off-duty or sleeper period after exhausting their current day's limits.
The agency's split sleeper berth pilot program seeks to determine the effects other split sleeper berth options, such as 5-5, 6-4 and 7-3 would have on drivers and their fatigue levels. The study's outcome could dictate whether FMCSA decides to pursue reforms to hours of service regulations pertaining to split sleeper berth flexibility.
According to the study's website, once enrolled in the study, drivers will:
Be allowed to use the flexible sleeper berth exemption under the study guidelines during any duty periods you choose (see below)
Use the standard 10 hours off duty or "8+2" rule on all other duty periods
Have your truck equipped with an onboard monitoring system, including a camera facing you and a camera facing the road to monitor driving patterns
Wear a wrist activity monitor to record your sleep patterns
Track hours of service using a custom Electronic Logging Device (ELD) provided by the study
Spend no more than 30 minutes a day using a study-provided smartphone to:

Completing a sleep diary and caffeine log
Performing reaction time assessments
Record your sleepiness

Have a brief weekly phone call at your convenience to check in with the research team
Earn up to $600 for completing all components during the 3-month study
The following regulations will still be in effect:
11 hour driving limit
14 hour duty limit
34 hour restart break
30 min breaks required
In addition, a study-related exemption will be issued from FMCSA to participating drivers:
A driver may split their 10 hours of required rest into two sleeper berth periods

Minimum of 3 hours per rest and together equaling at least 10 hours

Any sleeper berth period that is combined with a second sleeper berth period is excluded from calculation of the 14-hour duty period
When the second sleeper berth period of a split occurs, the recalculation of the 14-hour duty period starts at the end of the first sleeper berth period
During each duty period, drivers may choose to operate under either the current regulations or the study-related exemption

No mixing of exemption and non-exemption is allowed in the same duty period
Public comments about the study are being accepted for 60 days, giving carriers and drivers the chance to provide the agency with input about the study and how it should proceed. The comment period opens Tuesday and will be available at the regulations.gov rulemaking portal via Docket No. FMCSA-2016-0260.