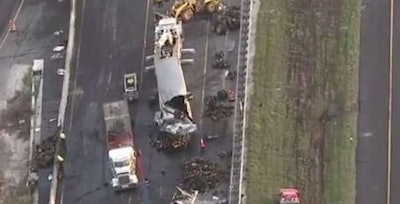 It was a rough week for grocery hauling. Three separate truck accidents this week left pumpkins and Gummy Bears on the road, while a load of Hershey's managed to escape a crash unscathed. A truck carrying 40,000 pints of vodka wrecked.
In San Antonio, Florida, a truck hauling pumpkins lost control on I-75 southbound and crashed Friday morning. The tractor-trailer and its pumpkins then caught fire. The trucker escaped and sustained no injuries, according to the Tampa Bay Times. The accident tied up traffic on I-75 Friday morning.
Also on Friday morning in New York, a truckload of Gummy Bears and Swedish Fish ended up in the front yard of a home in Port Chester after a trucker lost control of his truck and crashed into the yard, according to News 12 Westchester. The driver was taking an exit ramp from I-287 to I-95 when he lost control and went through a guardrail. The driver was taken to the hospital with non-life-threatening injuries.
On Tuesday, Sept. 18 morning, CBS 19 in Virginia reported a truck carrying 47,000 pounds of Hershey's candy bars ran off the road while driving northbound on Gordonsville Road in Albermale County. The chocolate remained in the trailer during the crash. The trucker, who was unharmed, told local police the accident occurred when he swerved to avoid hitting a car that didn't have brake lights. Police, however, pointed out that the truck and trailer were 67-feet-long and the road it was on had a 65-foot restriction.
Another truck carrying 40,000 pints of vodka overturned Thursday, Sept. 21, morning on U.S. Highway 70 in Clayton, North Carolina. A fire started because of oil spilled during the crash, but was quickly put out, according to WRAL. The driver was unharmed. North Carolina State Highway Patrol said the driver did not secure the load properly, and it shifted when he took a turn, causing to the truck to overturn. It took over eight hours to completely clear the accident, in part because the alcohol had to be unloaded from the trailer case by case.
SB I75 still shut down near SR52 in Pasco due to this semi fire. Truck appeared to have been carrying pumpkins. @BN9 pic.twitter.com/hNo2wl0tC9

— Katie Jones (@KJones821) September 22, 2017
#BREAKING Crews cleaning burned pumpkin mess from I-75 after semi crash at SR-52. WATCH LIVE: https://t.co/ZYaGOQQo9q pic.twitter.com/ZVjndHJGWO

— WFLA NEWS (@WFLA) September 22, 2017
8+ hours later-40,000lbs of @NewAmsterdam vodka & a flipped tractor trailer have finally been cleared from our busiest intersection in town! pic.twitter.com/lTpvVGnQQA

— Town of Clayton (@TownofClayton) September 21, 2017