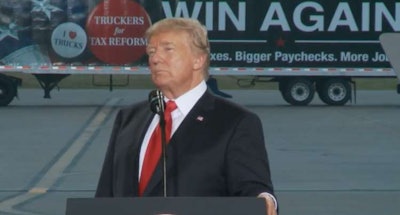 During a speech near Harrisburg, Pennsylvania Wednesday, President Donald Trump used two tractor/trailers as a backdrop and cited truck drivers as an example of workers who will benefit most from his proposed tax overhaul.
The wrap on one trailer had "Win Again" in big letters. Under it was, "Lower Taxes. Bigger Paychecks. More Jobs." It also showed two large campaign-style buttons. One said, "Truckers For Tax Reform" and the other was the familiar "I Heart Trucks" button.
The other tractor/trailer was the American Trucking Associations' Interstate One promotional rig. ATA arranged the presence of the trucks, as well as that of some association members and truckers from ATA's America's Road Team Captains.
Acknowledging the ATA and truckers, Trump said, "Nothing gets done in America without the hard working men and women of the trucking industry. Thank you so much for the job you do. When your trucks are moving, America is growing,"
He said his administration has worked to "remove barriers that slow you down. Putting America first, means putting American truckers first." Trump also pointed out his efforts to reduce regulations and added, "We want low-cost fuel for our truckers."
Trump told the partisan crowd of about 1,000 in an airport hangar he was committed to passing what he called "an historic infrastructure package that will generate one trillion dollars to rebuild America's crumbling infrastructure with a special focus on roadways and highways."
The presence of and focus on truckers appeared to be part of Trump's efforts to sell his tax reform plan as a benefit to middle class workers. His proposal has been criticized by many, including Democrats in Congress, as weighted in favor or wealthy Americans like Trump himself, and large corporations.
"It's a middle class bill," he said. "That's what we're thinking of. That's what I want."
Trump said his proposed changes to taxes would mean a $4,000 pay raise for the average American household. In addition Trump said his would cut corporate tax rates from 35 percent to 20 percent, reduce the number of personal income tax brackets and boost the standard deduction.
He also said his it calls for simplifying tax forms so the typical American can do their taxes on one sheet of paper. He joked, "H & R Block won't like me at all."
"While trucking sustains the vitality of the U.S. economy, we also carry a heavy tax burden, paying the highest corporate tax rate of any transportation mode," said ATA President and CEO Chris Spear. "That is why we joined President Trump at today's event, in support of his plan to reform our tax code. We urge Congress to follow the President's lead and pass tax reform by year's end.
"Hearing the President specifically call out the benefits of tax reform for ATA's members and the trucking industry underscores the need for this effort. We urge Congress to work with the President to achieve the goal of reducing the rates families and small businesses pay in taxes," he said.
Spear was joined at the event in Harrisburg, Pennsylvania, by several ATA members, including ATA Chairman Kevin Burch, president of Jet Express Inc., Dayton, Ohio and ATA member Calvin Ewell, president of H.R. Ewell Inc., East Earl, Pennsylvania.
"Passing tax reform would help me as the owner of a small family-owned business, by not only helping us add drivers and trucks, but in allowing this business to stay in my family by eliminating the estate tax," said Ewell, a bulk food hauler.
This is the second time the ATA and its Road Team Captains aligned with Trump. In March, the association parked two trucks on the White House lawn and Trump and others met with truckers.