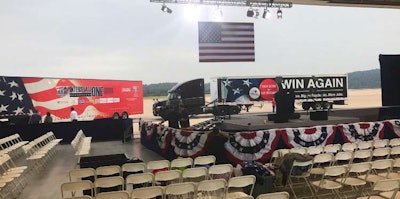 President Donald Trump is scheduled to deliver a speech about his tax plan in Harrisburg, Pennsylvania late this afternoon, and truck drivers are expected to be featured.
USA Today reports Trump plans to use truckers as an example of middle class workers who will benefit from his tax proposal. The newspaper said truckers will be behind Trump when he speaks, and this morning wrote:
"Nothing gets done in America without the hard working men and women of the trucking industry," Trump will say in his speech, according to an administration official who briefed reporters on condition of anonymity. "When your trucks are moving America is growing … That is why my administration is taking historic steps to remove the barriers that slow you down."
The invitation-only speech is scheduled for 5:45 p.m. Eastern at Pennsylvania Air National Guard hangar near the Harrisburg International Airport. A crowd of about 1,000 is expected.
If you're not among those invited, you can watch a live stream of the speech on the White House website.
This will be Trump's second event with trucks and truckers. In March the American Trucking Associations organized a White House event that had truckers meet with the president and members of the administration. A viral image from that event showed Trump in the cab of a truck pretending to drive and blowing the air horn.
Trump's focus on truckers comes after drivers were in Washington, D.C. to protest regulatory issues, especially the mandate of electronic logging devices.
See the ATA's Tweet about the speech:
Gearing up to hear @realDonaldTrump make the case for #TaxReform! ???????????????? #TruckersForTaxReform pic.twitter.com/BhCvQeLNPr

— American Trucking (@TRUCKINGdotORG) October 11, 2017