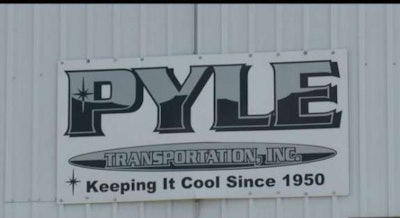 An Iowa trucking company that owned the trailer used in a high-profile human trafficking case in which 10 immigrants died in Texas has been effectively shut down by the federal government.
Pyle Transportation, of Schaller, Iowa was placed indefinitely out-of-service Monday by the Federal Motor Carrier Safety Administration following a compliance review that found hours-of-service and driver fitness violations, FMCSA spokesperson Duane DeBruyne said Thursday. The company has the right to appeal the order.
Pyle was previously operating under a "conditional" safety rating due to prior violations. After FMCSA conducted the compliance review, the company's rating was downgraded to "unsatisfactory," and Pyle was effectively shut down.
According to the company's Compliance, Safety, Accountability Safety Measurement System public profile, FMCSA found in the compliance review the company had been making, or allowing drivers to make, false reports regarding duty status. In the last two months, the company had several hours-of-service violations including log book violations, drivers driving beyond the 11-hour driving limit and an out-of-service violation for a driver driving beyond the 14-hour on-duty window.
Owner-operator James Matthew Bradley, 60, of Clearwater, Florida, was indicted on seven charges related to the discovery of dozens of illegal immigrants in a scorching van trailer in San Antonio in July. A total of 39 undocumented aliens were trapped inside the trailer, and 10 of them were either dead when police found them or later died at a hospital.
Bradley told investigators he was taking the trailer to Brownsville, Texas, for Pyle Transportation to deliver it to someone who had bought it from the 19-truck fleet. The company has not been criminally charged in the smuggling case, but its involvement undoubtedly drew increased scrutiny of its safety record.
Additionally, Bradley had his Florida CDL revoked in April and was operating without a license when the smuggling operation was discovered.
Also charged in connection with the case was Pedro Silva-Segura, 47, of Laredo, Texas.