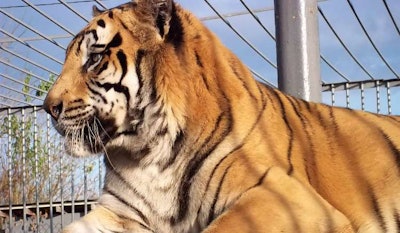 Much-beloved roadside attraction Tony the Tiger, a Bengal tiger living at a Louisiana truck stop, has been euthanized according to an announcement made Monday by the Tiger Truck Stop. He was about 17 years old. A statement from the truck stop said Tony was euthanized because his health was declining.
The tiger had been the center of a long legal battle involving the Animal Legal Defense Fund.
Michael Sandlin is the owner of the Tiger Truck Stop in Grosse Tete, Louisiana where Tony lived. His lawyer, Jennifer Treadway, released a statement saying Sandlin had "always treated Tony like a member of the family." The tiger was first brought to live at the truck stop in 2001. He was six months old at the time.
Tony's body will undergo an autopsy to see what can be learned from him. Afterward, he will be preserved through taxidermy.