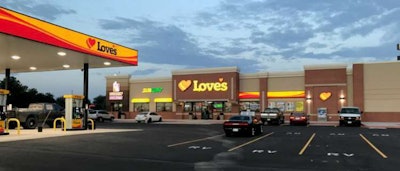 The newest Love's Travel Stop has everything you have come to expect of most any modern truck stop: food, coffee, parking, fuel, and other amenities. But it will also have a casino starting next month.
Love's expanded its presence in its home state with the opening of a new travel stop in Newcastle, Oklahoma, about 20 miles southwest of Oklahoma City. Located at 235 NW 24th St. just off Interstate 44 at Exit 107, the new Love's opened for business recently.
It includes:
five showers
laundry facilities
Subway restaurant
Dunkin' Donuts
The casino will be operated by the Chickasaw Nation, which is located in 13 counties in south-central Oklahoma. It already operates several casinos, bingo halls, smokeshops, hotels and resorts, and other business enterprises. It also has two truck stops of its own.
The casino will open in early November and offer 162 electronic games. No table games are available at this time, according to a Nation spokesperson. This is the Nation's first venture with Love's.
"This unique partnership evolved as a business extension of a long-standing personal relationship we have enjoyed for many years with Tom and Judy Love and their family, and the great respect we have developed for the way they conduct their business," said Chickasaw Nation Secretary of Commerce Bill Lance. "This new concept, a combination travel stop and gaming center under separate ownership and management, will provide additional employment opportunities in the Tri-Cities area.
"We look forward to strong results from this project. We believe this presents a significant opportunity to couple our expertise in gaming operations with Love's passion and their long and stellar track record for serving the traveling public with fuel, food and other retail products."
The Chickasaw Nation owns two off-track wagering facilities, 21 casinos, two bingo halls, 18 tribal smoke shops, eight motor fuel outlets, and two truck stops. They also own and operate Bedré Fine Chocolate in Davis, Lazer Zone Family Fun Center in Ada; five hotels and WinStar Golf Course in Thackerville; Solara Healthcare in Westlake, Texas; Chickasaw Nation Industries in Norman, Oklahoma; Global Gaming Solutions, LLC; KADA (AM), KADA-FM, KCNP, KTLS, KXFC, and KYKC radio stations in Ada; and Treasure Valley Inn and Suites in Davis. The Nation also operates historical sites and museums including the Chickasaw Cultural Center, Chickasaw Nation Capitols, and Kullihoma Grounds.
Love's now has more than 430 locations in 41 states.