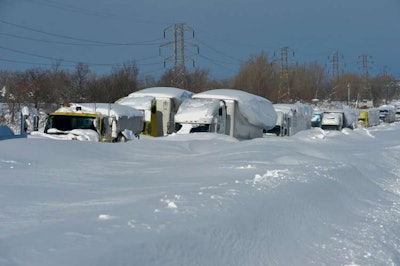 Almost three years to the day a history-making snow storm shutdown travel and stranded hundreds of trucks, New York State is deploying technology to help improve snow-clearing abilities. It also has a new mobile app that provides truckers and other motorists with access to real-time traffic and navigation assistance.
The New York State Thruway Authority has installed what it says is "an enhanced global positioning system" for its fleet of 235 heavy-duty plows. The system provides real-time monitoring during plowing operations, including route tracking, air and pavement temperature and deicing material application rates for each truck engaged in storm response.
The authority also is installing up to 12 Mesonet snow measurement weather stations that will allow for real-time, localized weather and snowfall rate monitoring. The pilot program will launch by early next month in the Syracuse and Buffalo ares.
The authority said the system will collect measurements such as temperature, relative humidity, wind speed and direction, surface pressure, soil moisture, soil temperature, solar radiation, and precipitation amounts for rainfall and snow accumulation.
The Thruway Authority is also installing IBM/Weather Company forecasting software it said will provide crews with better forecasts and real-time, localized monitoring of weather.
That 2014 late November storm dumped some seven feet of snow across much of western New York, shutting down the Thruway and other highways, and eventually claiming 10 lives. Some 98 trucks were stranded for several days on the Thruway. Gov. Andrew Cuomo went truck to truck to check on drivers.
According to the authority, the new app gives travelers access to the latest road conditions in real-time, including construction and traffic alerts, while remaining hands-free. A safety setting option uses voice announcements for roadway updates while traveling.
Other features include:
Interactive Thruway map with real-time voice notification of upcoming Thruway-specific sites and traffic events
Toll Calculator to plan your trip
Ability to report an issue regarding a road condition, safety or services
Request roadside assistance
Restaurant and Thruway service area locator
E-ZPass and Tolls by Mail information.
The free app is available at Google Play and iTunes.