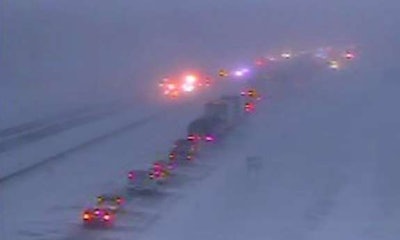 UPDATE: New York State Police now say one person was seriously injured and another killed in the a large chain-reaction accident in whiteout conditions on the New York State Thruway near Buffalo Tuesday.
Our Original story:
I-90 (New York State Thruway) between Exits 50 and 48A was closed Tuesday afternoon following a pile-up of between 15 and 25 caused by severe winter weather conditions.
Eastbound traffic is being diverted off of exit 50 (I-290). Westbound traffic must exit at exit 48A (Pembroke).
The Buffalo metropolitan area is experiencing severe weather conditions with poor visibility. Drivers are urged to use extreme caution while on the road, according to a statement from the Thruway Authority.
The Buffalo News reports at least two people were injured.
Also in New York, part of I-81 north of Syracuse was closed by a weather-related accident.
JUST IN: Video of ~100 car pileup on I-90 outside #Buffalo - shot by Kadire Flowers pic.twitter.com/4DvIYqMqJu

— Stephen Marth (@StephenMarth) January 2, 2018