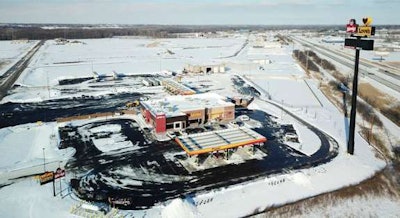 Love's Travel Stops has opened its eighth location in Iowa and the second to open in the state in as many weeks.
The newest Love's in the Hawkeye State is located at 3301 Greyhound Drive in Waterloo (intersection of U.S. Highways 63 and 20) and has:
Wendy's restaurant
laundry
game room
five showers
seven diesel fuel pumps
Love's Truck Tire Care
"Adding a travel stop in Waterloo provides drivers with access to services in a new area of Iowa along two busy main highways," said Greg Love, co-CEO of Love's. "U.S. Highways 63 and 20 are major routes that span the state, and this a perfect place to provide a convenient stop for professional drivers."
Love's now has more than 450 locations in 41 states.