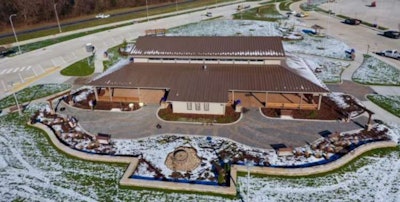 A new rest area has opened on Interstate 77 just south of the Tomlin Mill Road interchange (Exit 59) north of Statesville, North Carolina, replacing four smaller, outdated ones nearby.
The new facility has
six restrooms, including two for families
vending/seating area
additional parking for smaller vehicles
The 5,000-square foot, $15-million rest area is the first in the state to be built in the median. Motorists will exit I-77 from the left lane in either direction to access the rest area. Building the facility in the median save the state about $1 million since it did not have to acquire any additional right of way. Construction of the rest area started in the spring of 2015.
With the opening of this facility, four other rest areas along I-77 will close – two at the Iredell/Yadkin county line, and two north of Mooresville. Between them, the four rest areas had a total of 56 truck parking spaces.
The four other facilities were built in the early 1970s and are outdated, and do not have all the latest ADA updates the new rest area has, according to Jen Thompson, communications officer for the North Carolina Department of Transportation.
The other rest areas will not be refurbished; they will be torn down, according to Thompson.
She added the change also saves NCDOT about $250,000 a year in maintenance costs.