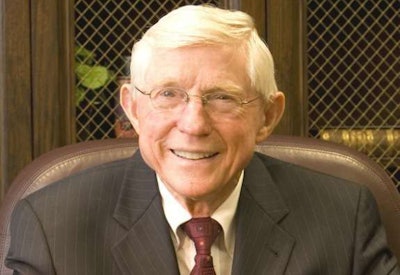 One of the family members who helped make C.R. England a leading U.S. trucking company has passed.
William Knight England died March 28. He was 95.
Funeral services are Tuesday, April 3 at noon at the Latter-Day Saints Chapel, 1565 South Foothill Drive, Salt Lake City, Utah. Visitations will be held before services from 10:30 a.m to 11:30 a.m. Interment at Wasatch Lawn Memorial Park.
According to an obituary published in the Salt Lake Tribune, Mr. Knight was born to Chester R. and Maude England in Plain City, Utah on March 6, 1923.
Chester R. England started a trucking business in 1920, according to the website of the C.R. England trucking company. During World War II, William and Gene, Chester's sons, served in the Pacific Theater, returning home and building the business. They mostly hauled produce from Utah and Idaho to California.
The obituary said the company began with one truck in 1946 and grew to have more than 5,000 in 2018.
Mr. England married Fern Hadley in the Salt Lake Temple August 20, 1943, who survives him along with daughters, Sandra (Randy) Okland, Debbie (Mark) Nelson and Robin (Robert) Cannon, 16 grandchildren, and 39 great grandchildren, with three on the way.
His obituary said he served in many LDS Church positions, and served on boards of both the Utah Trucking Association and the American Trucking Associations.