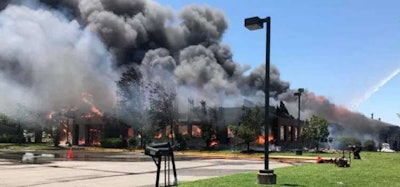 Fire appears to have destroyed the Flying J travel center off I-55 in Matthews, Missouri Sunday afternoon.
KFVS-TV reports that when crews arrived, heavy smoke and flames were coming from the north side of the building. The building's roof caved in and the only thing left is the surrounding walls, Matthews Volunteer Fire Department Chief T.J. Gantner.
Eight different departments responded to the fire.
The cause of the blaze has yet to be determined. No injuries were reported.