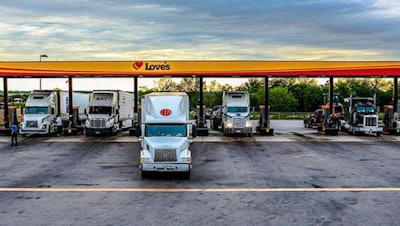 Love's recently opened two new locations and reopened a third. In the process, 300 new parking spaces were added.
The new stores opened in Ellisville, Florida, at Interstate 75 and Exit 414, and Statesville, North Carolina, at Interstate 40, Exit 154. The Milan, New Mexico, store, located near Interstate 40, Exit 79, reopens after being refurbished and adding 30 additional truck parking spots.
Love's also recently added 53 new truck parking spaces at its Tulare, California.
"Love's is proud to add more truck parking and other services to new areas of Florida, New Mexico and North Carolina," said Greg Love, co-CEO of Love's. "These locations will allow us to serve our customers near busy highways and interstates."
The three new stores feature a variety of restaurant options such as Chester's, Hardee's, McDonald's, Subway and Godfather's Pizza.
The reopened location in Milan adds laundry facilities, increased restaurant seating and new showers.
The Ellisville and Statesville locations offer Love's Truck Tire Care services and showers.