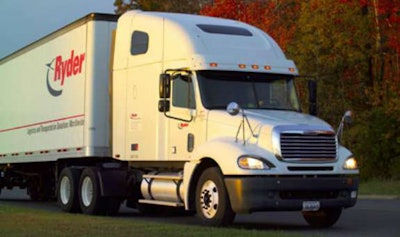 Ryder System, Inc. recently honored its top carriers with its annual Ryder Carrier Quality Award. The award recognizes Ryder's carrier partners for on-time performance, claims handling, customer service, innovation, and more.
Ryder recognized the following carriers as its Ryder Carrier Quality Award recipients:
LTL National Carrier: FedEx Freight
LTL Inter-Regional Carrier: New England Motor Freight
LTL Regional Carrier: Southeastern Freight Lines
Canadian TL Carrier: Kriska Holdings Limited
Canadian LTL Carrier: Midland Transport
Specialized Flatbed: PGT Trucking, Inc.
Oil and Gas Specialized Truckload: Essential Logistics, LLC
Intermodal: J.B. Hunt Transport, Inc.
National Dry Van: Swift Transportation
Regional Dry Van: Mesilla Valley Transportation
Temperature Controlled: Southern Refrigerated Transport, Inc.
International Maritime Commerce: Atlantic Container Lines
Freight Forwarder: Pilot Freight Services