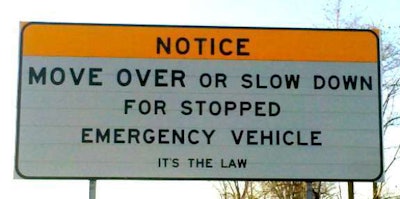 If your work takes you through Ohio and the states that border it, be sure to move over if there are emergency or highway maintenance vehicles stopped on the shoulder of the road.
Troopers from Indiana, Ohio, West Virginia, Kentucky, Michigan and Pennsylvania will be conducting state-wide patrols targeting violations of the "Move Over" laws in each of those states beginning Sunday, July 22.
The project, which was initially started by the Ohio State Highway Patrol, now encompasses the five states that border Ohio.
"We will be conducting extra patrols which will be targeting drivers who are violating Indiana's 'Move Over' law," said Lieutenant Corey Culler, commander of the Indiana State Police Post in Fort Wayne. "Our aim is to reduce the number of senseless tragedies because someone did not provide the necessary, and required room for our emergency and service personnel while they work alongside our roadways. Please yield to and provide room for police vehicles, ambulances, fire trucks, rescue equipment, highway maintenance, utility service vehicles and tow trucks."
The project runs from July 22 through July 28.