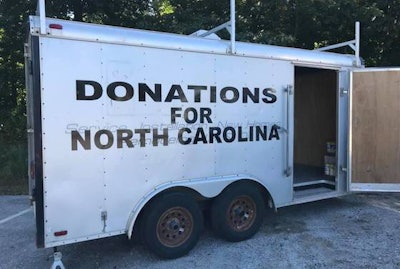 A Maine truck driver volunteered his time to help deliver a load of donations for Hurricane Florence victims in North Carolina. Lumber hauler Shane Gallant, from Canton, delivered the donations to Newport, North Carolina.
Gallant's trailer of donations included bottled water, tarps, bleach, toothpaste, toddler bedding, and children's clothing, according to the Sun Journal. Donations were collected at Dan's Automotive in Rumford. Gallant said on Monday, Oct. 1, that the supplies were delivered to a committee who would distribute them.
This isn't Gallant's first time helping out after a hurricane. After last year's Hurricane Harvey, Gallant says he spent three months in Texas helping with cleanup.