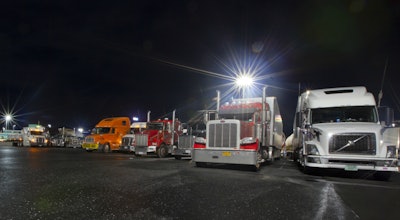 Several trucking companies recently filed petitions with the Federal Motor Carrier Safety Administration to exempt out of certain hours of service regulations. The agency is seeking public comment on all four requests.
Transco, which operates through McLane, is seeking an exemption from the 30-minute break requirement that would allow its drivers to take a 30-minute on-duty, non-driving break instead of the 30-minute off-duty break that is currently required.
The company made a similar request in 2016 and was denied the next year. Transco says its drivers operate as teams with each driver driving an average of 4.55 hours per trip with multiple stops loading and unloading. The trips average 17.2 hours, Transco adds.
Transco contends that the 30-minute break helps break the monotony of driving long periods of time for long-haul drivers, but Transco's drivers have breaks that include physical exercise several times a day at pickups and deliveries. When FMCSA denied the request in 2017, it said the 30-minute break is "especially important" for Transco drivers because they accumulate fatigue both from unloading freight and from driving.
Comments can be made on Transco's request here through Nov. 19.
California-based RJR Transportation, which operates 60 trucks mostly within 100 air miles of the company's headquarters, requested to increase the short-haul exemption radius to 150 air miles for its drivers. The company says fewer than 5 percent of its drivers exceed the 100 air mile radius but not 150 air miles.
RJR says in its petition it would "be forced to make a substantial investment in updating its vehicle fleet to include ELDs for this short extension of the 100 air mile radius." It adds that it currently has five drivers who maintain logs, but all 60 of the company's trucks would need ELDs to allow the company to keep its flexibility to put any driver in any truck.
Comments on RJR's request can be made here through Nov. 19.
Rota-Mill, a milled asphalt-hauling company out of Pennsylvania, is requesting relief from the 30-minute break requirement and an extension of the 12-hour limit for short-haul drivers.
The company says it has 21 drivers who are also heavy equipment operators that drive to a job location, then operate the equipment they deliver. The company adds these drivers actually drive for fewer than 5 hours each day.
Occasionally, Rota-Mill says its jobs get delayed and drivers are sometimes required to work longer than 12 hours. Because of this, the company wants to allow its drivers to operate under the short-haul exemption but in a 14-hour work day rather than 12 hours. Additionally, the company wants its drivers to be able to use 30 minutes or more of on-duty "waiting time" to satisfy the 30-minute break requirement, as long as they don't work during those 30 minutes.
Comments on Rota-Mill's request can be made here through Nov. 19.
Finally, Wolfe House Movers and Wolfe House Movers of Indiana filed a joint petition requesting an exemption from hours of service regulations for its drivers who transport steel beams and dollies to and from job sites for lifting and moving buildings.
Wolfe says it does not accept business opportunities that require work on Sundays due to religious reasons and therefore are subject to the 60 hours in 7 days rule. The company is petitioning for its drivers to be allowed to operate under the 70 hours in 8 days rule instead.
The company adds that it tries to schedule work so drivers will return to their home terminal within 60 hours, but weather, traffic and jobsite conditions sometimes delay projects, preventing them from getting back by the 60th on-duty hour of the week. Wolfe says allowing drivers to use the 70 hours in 8 days rule would reduce stress on drivers and help them drive safer.
Comments on Wolfe's petition can be made here through Nov. 19.