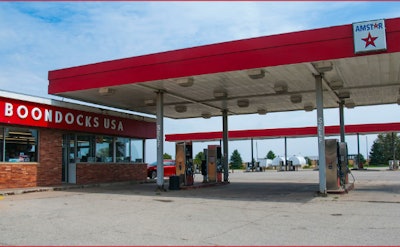 A legendary Iowa truck stop goes on the auction block Wednesday.
Boondocks, the truck stop, and motel located at Exit 144 off I-35 in Williams, Iowa closed recently and will be auctioned off at 10 a.m. Central by the Whitaker Marketing Group. Owners Bob and Miriam Welch had tried to arrange a sale to one of the two parties said to be interested in the 16-acre site, but could not.
The auction will be held at the Titan Machinery Building, 3093 220th St. in Williams.
The Welches owned Boondocks for 46 years but said they've lost businesses to other truck stops and have a hard time finding employees.
"It's been a long, wonderful trip," Bob Welch told KCCI-TV. "And we certainly have enjoyed it, and we thank you kindly for coming in."